Photo Gallery Specifications Tunings Home Dan Roberts on the C2
Contraguitar C1 Contraguitar C3



UPDATE: In August 2012, C2 returned to Daniel Roberts Stringworks. There, Dan converted it from a 14-string to a 16-string by adding a high D course. This required the following modifications: Adding two Steinberger tuners near the center of the headstock, replacing the bridge with a 8-pin design, a new saddle which is compensated for 16 strings, and a new nut to accommodate the tighter spacing of 16 strings. More info on string gauges and tunings here.
Click for a larger photo

eptember 2010: the first-ever 14-string Contraguitar arrived at my New England home. This instrument was built in Montana by Dan Roberts of Daniel Roberts Stringworks. Dan and I had worked on the design and specifications of the Contraguitar for over four years. The full story of the Contraguitar, its genesis and realization, can be found here.
The Contraguitar, or as it has come to be known, C1, was pictured in my feature article in the Holiday 2010 issue of Guitar Player magazine. I used C1 extensively on the first album I recorded with British guitarist Mark Wingfield on our album I walked into the silver darkness. This album was recorded in November 2010; I had C1 for less than two months at the time of the recordings. The studio sessions were an intense series of long 12-hour days in the studio; material for two complete albums were recorded. This was the first time the Contraguitar had been really put to the test. Going in to the studio, I had a pretty good sense that it would be a great instrument and very successful; however, I had no idea just how perfect. I utilized five guitars on the sessions with Mark, but the Contra was used on about 2/3 of the total material we recorded. At the end of those three days, I knew the Contra had become my main instrument. It felt and sounded like home. Though I had only been playing it for two months and was barely scratching the surface of its possibilities, playing my other instruments already felt limiting and almost foreign. Less than a year later, C1 would make another appearance in Guitar Player magazine, this time in an article about the recording of I walked into the silver darkness.
Here are clips from I walked into the silver darkness which feature C1: Into equilibrium hesitation, Secret density, and Air distance transform (C1 in the introductory solo).
I use many of my own intervallic dual-course tunings on the DKK-12 extended baritone guitar and the KK-Alto guitar. The intervallic tunings are like a palette of previously unknown colors. I
have come to love them and really depend on them; both in the studio and on tour. For me, they are more expressive than concert and/or octave tunings. The single drawback to intervallic tunings is that usually the instrument has to be set up for them; for example, string gauges for an intervallic tuning may not be the same as the gauges for octave tunings. A different bridge saddle may be required. The action may require adjustments. Changing tunings requires several minutes of retuning. The best approach is to have an instrument set up for octave tunings, and the intervallic-tuned instruments set up for their tunings. In this manner, it is easy to switch between the two in a recording studio or on stage. During the recording sessions with Mark, I found myself wishing I had time to set up the Contra for intervallic tunings, but there had been no time to create new tunings; nor would there have been time to set up C1 for intervallic tunings during the sessions. This would have been even more complicated due to the fact that the Contraguitar utilizes both bass and guitar strings. In fact, it's difficult to get a sense of the mammoth size of this instrument from the photos; below is a photo of C2 next to my Cervantes classical guitar as a size comparison.
During a break on the third day of the sessions, the thought occurred to me that having a second Contraguitar would allow for both octave and intervallic tunings. Having both would provide hitherto unknown possibilities. I called Dan the day after the recording sessions. He knew the Contra was setting forth on its maiden voyage in the studio, and asked me to call when it was over and let him know how it had worked out. After explaining just how much I pressed it into service and put it through its paces during the sessions, he expressed how happy he was to hear that. I then asked, "Do you want to do another one?" I have worked on instruments with Dan since 1999; he knows me quite well, so I don't think he was too surprised to hear that I was ready for a second Contra. He enthusiastically said sure.
After playing it for a while, I knew I wanted to do a few things differently on the second Contraguitar, or as we began to refer to it: C2. I didn't want a copy of C1. I was considering a Contra with a different voice. To be clear, there was nothing I didn't like about C1; it was about as close to perfect as I could imagine. But changing the voice would augment the musical possibilities and further expand the color palette. The complete design specifications for C1 are on its page, so I won't recreate them here. Various experimental elements of C1 turned out to work beautifully, and these were carried over to C2: 1/4-inch bridge saddle, ebony nut, asymmetrical neck profile, three different types of tuning machines, and the banjo-cut profile of the top of the headstock; among others.
The key differences for C2:
| | |
| --- | --- |
| ♦ Back and sides: European flamed maple | ♦ Body depth increased to 5.25 inches |
| ♦ Neck: Flamed red maple | ♦ Jescar EVO frets |
| ♦ Radiused fingerboard | ♦ Ebony peghead overlay |
| ♦ 7-pin double-ramped bridge | ♦ Pick Up The World stereo onboard transducer |
| ♦ Three tone bars (top bracing) | ♦ Custom-mixed Cremona violin tint |
| ♦ Triple rosette | |
Voicing :: The European flamed maple back and sides would greatly alter the voice. Even if C1 and C2 were in the same tuning, the result would be quite different; like the difference between red and blue. In my experience, maple instruments project far more than non-maple instruments; further adding to the tonal differences between C1 and C2. For the body, Dan selected an old set of European flamed maple which he had been saving for over 20 years for a special project. Dan felt that this set of maple had the tonal qualities he sought for C2.
Radius :: Fingerings for certain chord voicings on C1 were sometimes difficult due to the non-radiused fingerboard, so I wanted a radiused fingerboard on C2. Dan suggested a compound radius, and I agreed.
Bridge and spread :: A 7-pin bridge instead of a 14-pin bridge allows for greater bridge-to-top surface area contact, as well as improved and uniform break angles. Another advantage of the 7-pin bridge is that the spread within each course can be controlled; I wanted the spacing of each course to be tighter than C1, while retaining the same spread between courses as on C1. The spread between courses is based on the classical guitar spacing which allows for polytonality and contrapuntal material in playing techniques.
Rosette :: The rosette on C1 is maple and dyed maple; a simple, elegant look, inspired by violin purfling. However, I wanted something different for C2, so the same maple violin purfling rosette was created in three rings.
Depth and response :: The body depth felt and sounded right on C1, but sometimes maple can have less bass response than the rosewood family tonewoods; I wanted the voice to be entirely balanced: neither bass-heavy nor bass-shy. To increase the bass response and further enhance the bass register, I asked Dan to increase the body depth.
EVO :: My friend Laurent Brondel, a fine and talented luthier, had recommended to me the new EVO fretwire by Jescar. I tried it on a few of his instruments, and really liked it. The compound of the EVO frets contains titanium, thus making them much harder and more resistant to wear than the usual nickel-silver compound frets. This would be most welcome on C2 due to the increased fret wear from the compound string sets consisting of both bass strings and guitar strings.
On-board :: Tours and concert sounds systems can present unique and arduous challenges to both string players and sound engineers, so I knew I wanted to enhance the onboard pickup system from C1. Both Contras utilize the GHS internal low-impedance microphone, which has proven to be wonderful on C1. I spoke with David Enke at Pick Up The World, and explained what Dan and I were doing. David was familiar with my music, and was very interested in trying one of his stereo systems for C2. I had heard recordings of various PUTW systems, and was impressed with the microphone-like quality. I was also impressed that David's PUTW systems left the instrument completely untouched. Most onboard pickup systems require modifying the bridge, the saddle, and other areas of the instrument, thus compromising the natural acoustic voice of the instrument. I knew this would not be the case with David's systems, and in fact was so impressed with them that I became an artist endorser for Pick Up The World.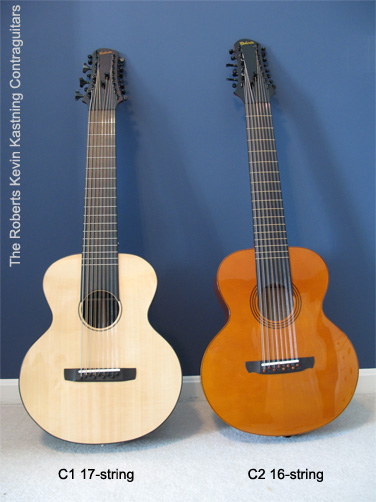 Violins :: Finally, since virtually every instrument in the violin family has the same flamed maple back, sides, and neck as we were using on C2, I wanted Dan to try a darker violinesque stain for C2. I have been composing since I was a child, and my primary artistic influences are classical composers. The Cremona violin stain would bring it all full circle: an instrument which had never before existed for a new type of classically-influenced music, yet with a connection to the rich, centuries-old tradition of the violin family aesthetics; the very instruments on which are played the music that has shaped me. Dan tried an actual stain, but was not happy with the look. Instead, he opted to mix the exact color he had in mind using lacquer instead of stain, and sprayed this over the spirit varnish ground. Dan took a lot of time with this phase of the build, as getting the exact color he had in mind was not an exact science. Dan also used a maple violin purfling to further the classical and violin connections. A beautiful detail on C2 came almost by accident: the bindings are also stained. Dan sent a photo of the first coat of the stain, and he had stained the bindings, too. His plan was to scrape the bindings back to their natural, light color prior to applying the clear varnish. I thought it looked beautiful, and asked him to leave the bindings stained the same as the rest of the instrument, including the purflings. Dan hesitantly agreed; since it had never been done, he was uncertain of the outcome. After it was completed, he commented on how much he really liked this detail. The photo gallery features some beautiful shots of the color.
Work began on C2 in November 2010. While it was being built, C1 went on to appear in the studio many times. I recorded albums in 2011 with guitarist Alex De Grassi, bassist Michael Manring, from Belgium lutenist Gilbert Isbin, woodwind artist Carl Clements, some solo compositions for a future solo album, and another new album with Mark Wingfield. C1 was my main instrument on all these sessions.
On a gray, blustery day in December 2011, C2 arrived at its new home. It is nothing short of a revelation. Again, I feel as if I am only beginning to scratch the surface of its vast and deep potential. C2 will accompany me on the 2012 European concert tour with Sandor Szabo as well as an album recording date in Hungary, a concert and album recording dates in London, and already several other 2012 recording dates are on my calendar for which C2 will be involved. C2 represents an entirely new world of harmonic, compositional, and artistic possibilities. I look forward to getting to know it, and embracing it as a true friend.
C1 and C2 are proving to be the two halves of the Contraguitar whole.
To Daniel Roberts of Daniel Roberts Stringworks, my sincerest gratitude. Thank you, Dan.
- Kevin Kastning
January 2012

+
Return to top of page
+
14 strings; converted in August 2012 to 16 strings
European flame maple back and sides
Body depth: 5.25 inches at tailblock (13.3 cm)
Carpathian red spruce top
3.25 inch nut (82.5 mm)
30-inch scale (762 mm)
Ebony headplate overlay
All maple/dyed maple purfling and rosette
Bracing/voicing: double-tapered, knifed, and scalloped
Three tonebars + asymmetrical finger braces
Flamed red maple neck and heelcap
Banjo-cut headstock profile
Ebony fingerboard (12" to 18" compound radius)
Jescar EVO frets
17 frets with a fretless area in the upper register above 17
8-pin ebony bridge
Bone compensated 1/4-inch saddle
Maple bridge plate
Ebony nut
Ebony unslotted bridge pins
Cremona violin stain
Tuners:
Hipshot double-stop Bass Xtenders (3)
Steinberger (5)
Grover locking mini-Rotomatics (8)
+
E (bass) thru D (alto)*

For C2 string gauges, see the gauge chart.
*This is the octave tuning; I will be using many intervallic tunings, such as the DKK-12 examples on the tunings page.

This photo gallery chronicles the birth of C2, from tonewood selection in November 2010 to completion in December 2011. Hover over the center of the photo for navigation controls.
+