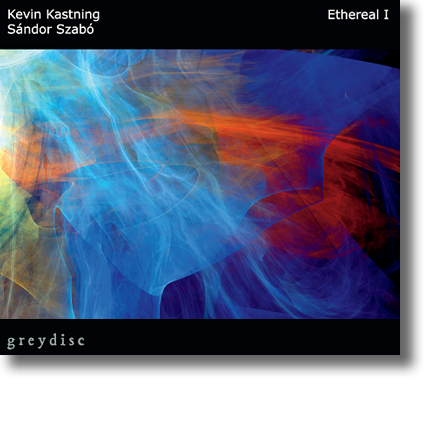 Ethereal I: Reviews and Quotes
Ethereal I
Kevin Kastning + Sándor Szabó


"Guitarist Kevin Kastning, the ever prolific man of a thousand strings, continues his globetrotting exploratory collaborations on Ethereal I. He is joined here once again by Hungarian guitar wiz Sandor Szabo, whose sinuous glissandi counterpoint serves as an appropriate complement to Kastning's multi-string contemporary classical/ambient meditations.

some decidedly non-guitaristic pad and dark drone timbers open the disc with "Choros Nympharum," and haunt the mix ad odd intervals throughout. These sounds are shrouded in mystery, insofar as no mention of guitar synthesizers or even an e-bow is vouchsafed. As on his most recent releases, Kevin augments the waveform vocabulary with acoustic piano via pieces such as "The Leaves are Full of Voices," and the closer "Sylva Nympharum."

Regular readers here know pretty much what to expect from Kastning's efforts: a glacial unfurling of carefully juxtapositioned musical events with upmost consideration given to their interrelations, and to their position within the compositional aggregate. Very sophisticated stuff and an acquired taste well worth cultivating." (3 1/2 stars)
-- Progression Magazine (US)
Winter 2018

KEVIN KASTNING & SÁNDOR SZABÓ – Ethereal I

Inverted tangibility as a means for implementing more vigorous ideas: renown many-string unit remap a route to wonder.

Their first seven excursions into a twin-guitar weave being purely acoustic affairs, KK and SS may have felt this race is run, and the spiritual uplift of "Invocation" may have been its spiritual pinnacle; that's why "Ethereal I" – the start of a new course for the two artists – finds Szabó crossing over to electric instrument to contrast Kastning's unplugged designs. It's quite a bold move for the international duo, one opening a whole different set of possibilities which, undoubtedly, must be explored in many a vivid and intricate detail, so "Ethereal I" is but a teaser and, contrary to the record's title, a solid work.

The switch of charge doesn't change a lot of dynamics on soundscapes such as "Choros Nympharum" and "Sylva Nympharum" where strum and rarefied picking drown in tentatively intense magnetic field before this background sleeper awakes to live a celestial life. It rolls out in "The Leaves Are Full Of Voices" as Sándor's finely clipped, fluid lines are grounded with Kevin's piano drops, but any traces of a tune will be dissolved for "And In The Water" only to form spectral, though gradually solidifying to befit the "For Which The Stone Is Cut" theme, slo-mo images of a flamenco hue.

The result of the fresh approach feels extremely romantic, "Drift Under Hills" flowing down a low-tone rumble as a classical piece would in a wordless, if meaningful way, and not for nothing the multidimensional expanse of "Spoken By Wind" is so eloquent. There can be more muscular vibrancy to "The Eyes Of Day" whose vastness gets limited in order to prevent strings from ruining the universe with their fusion-bent resonance, yet the glacial pulse behind "You Never Seem To Have Discovered" seems too subtle to be discernible in the overall ripple, while "Moves Only Now And Clinging" has folk-sprinkled expectancy surge under its surface.

Not ephemeral at all, this album has carefully constructed a grand scheme of things that amounts to poetry in perpetual motion. On to the next volume now.

****1/3
-- Let it Rock Magazine (CANADA)
October 2018


Kastning, Kevin/Sandor Szabo: Ethereal I

"Constantly at work, Kevin Kastning returns with one of his many collaborators - guitarist Sándor Szabó - the pair having recorded eight albums together since 2007's Resonance. Kastning is the creator of the 36-string double contra-guitar, 30 string contra-alto guitar, 15 string extended classical and other forms of the guitar which are different from the expected. On Ethereal I it is the first two of those inventions that are brought into play alongside piano, while Szabó adds standard and baritone electric guitars to the mix.

Through the very nature of the instruments he has formed, Kastning's music is often avant-garde, remote and unexpected. However with Szabó as co-composer and performer, Ethereal I is ever so slightly more song based than might have been anticipated. The opening "Choros Nympharum" is an imposing beast, deep in contemplation, yet still pensive and reserved. As ever with Kastning, the idea never seems to be to flood the listener with notes, but instead to create space for the music to flow into and out of; something which "The Leaves Are Full Of Voices" also takes into consideration. With piano creating a sparse backdrop, there's a lighter feel added to the intentional gloom of what Kastning and Szabó specialise in, the hugely patient mannerisms of this style always at the forefront and challenging the listener to stay the course. However, as an opening pair, they do form a much more ready welcome than some of their previous work.

Things level out and meet expectations a little more straight forwardly on "And In Water", an enigmatic approach of slowly tumbling notes played out over an off kilter melody. While "Spoken By The Wind" is a bending of sounds which suggests the power that a gentle breeze can become in almost a matter of seconds; a foreboding nature laying hidden just underneath what is a playful dance. "Moves Only Now And Clinging" proves as tough to break down as the name suggests, an intentionally arm's length approach adopted, before the circle is completed through the closing "Sylva Nympharum". An extension of the album's opening piece rolled out across nine minutes of patient atmosphere building, which in many ways sums up everything you can expect to find on Ethereal I.

That Kevin Kastning genuinely resides in a niche that few else have discovered marks him out as a truly individual talent. As a rule however, I do tend to engage with his collaborations more than his solo work, even if they are always clearly linked. The same applies here, as Sándor Szabó helps to find a more obvious way in to what can be an impenetrable intention."
-- Sea of Tranquility magazine (US)
August 2018


Kevin Kastning + Sándor Szabó — Ethereal I
"Kastning reunited with Szabó for the early 2018 release Ethereal I, but this one's hardly Invocation Part II: for the follow-up, Szabó exchanged his customary acoustic axe for electric and electric baritone guitars. It's not the first time a recording featuring his electric playing's been heard, that distinction falling to 1997's Echolocation, a set on which he applied then-nascent digital effect processing technology to his performance. The duo release, on which Kastning augments 36-and 30-string guitars with piano, finds Szabó again embracing the possibilities of live and studio effect processing. Though the two have recorded many duo and even trio albums since 2007, this is the first time they've deviated from an all-acoustic setup, the result being so satisfying to its creators they view it as the first in an intended series.

If anything, the billowing washes generated by Szabó complement splendidly Kastning's acoustic expressions; further to that, the former's focus on atmospheric gestures allows the latter to adopt a more dominant soloistic role, which comes as a refreshing outgrowth when it's Kastning partner who's often the more prominent presence on the other three collaborations. In the opening "Choros Nympharum," for instance, the central element is Kastning's acoustic, which Szabó adorns with ambient-soundscaping textures. Helping to keep things interesting is the fact that the balance shifts from one track to the next, such that "The leaves are full of voices" and "Spoken by wind" place Szabó's painterly strokes and melodic phrases at the forefront with Kastning's piano acting as an anchor; by comparison, "And in the water" and "You never seem to have discovered" place the two on equal footing, the acoustic and electric engaged in the kind of to-and-fro characteristic of the other releases reviewed here. Of course, the presentation is never so simple, it more being the case that the focal point re-adjusts itself constantly, with each player transitioning smoothly between background and foreground as dictated by the material as it advances in real time.
As evidenced by the four (recent) releases, certain aspects of a Kastning set are predictable—the generous seventy-five-minute length, for one, and the absence of a strictly regulated tempo another (the likelihood of a standard 4/4 pulse surfacing on a Kastning recording is possible but highly unlikely)—but each release also is distinguished by degrees of unpredictability, the track-by-track shifting of balance heard on Ethereal I a good illustration."
-- Textura Magazine (CANADA)
April 2018


Kevin Kastning & Sándor Szabó — Ethereal I
(Greydisc GDR3540, 2018, CD)


by Peter Thelen, Published 2018-02-19

With their arsenal of exotic guitars, Kastning and Szabó masterfully create a mysterious world of sweeping textures, emotional shadows, colorful points of light and shimmering angular melodic fragments. Much like a winter landscape as light meets night, there is an abundance of beauty and magic available in every direction to thoroughly capture the listener's imagination, pushing the boundaries of what can be crystallized into melodic structure. There are a variety of elements at work here, with Kastning's 30 and 36 string acoustic guitars providing the foundation for most of the melodic elucidations, with some occasional piano doing the same, using a variety of techniques, including a strong contribution from the studio itself, providing a very natural and crisp sounding reverb. Szabó, with electric guitar and baritone electric and a veritable mountain of effects and processing devices provides the strong textural backdrop that follows Kastning's instrumental wanderings, opening a vast open panorama for the proceedings. From the title, one might conclude that the collection of ten tracks herein is the first in a new series of more to come, and although Kastning and Szabó have collaborated on at least nine previous releases, Ethereal I is a distinctly different endeavor than any of its predecessors. This is the place where a listener's mind can be set free in a dreamy world of bright and muted colors, textures, and pure sonic enlightenment.

-- Exposé Magazine (US)
February 2018



KEVIN KASTNING / SÁNDOR SZABÓ


In 2017, guitar explorers Kevin Kastning and Sándor Szabó teamed for their duo album Invocation. That 79-minute album fittingly followed in the footsteps of their earlier releases, all of which are available on CD from the Greydisc label. Kevin and Sándor now take listeners in a completely different direction with the 2018 CD release of Ethereal I. For Ethereal I, Kevin and Sándor open the sonic floodgates of guitar-centric creativity and the results will amaze even long time fans. As he's done with another guitar collaborator, Mark Wingfield, Kevin pairs his world-renowned 36-string Double Contraguitar, his 30-string Contra-Alto guitar and his piano with Sándor's electric and baritone electric guitars. The results on Ethereal I are truly stunning and the 76 minute album takes their sound one step beyond what long term Kastning fans may have expected. In addition to his avant-garde approach to using these most unusual sounding and looking 30 and 36 string guitars, Kevin is also quite an effective pianist. Paired with Sándor's truly exotic sounding electric guitars, the results make Ethereal I sound almost otherworldly. True to his eclectic nature and background, Kevin Kastning has always been an advocate of progressive rock, classical and jazz guitar and true to form, Ethereal I incorporates certain sonic elements that are bound to please certain open-minded members of the prog guitar community. Speaking about the change of sonic vistas between Invocation and the 2018 release of Ethereal I, Kevin explains, "Invocation was all-acoustic and was recorded as we usually do, which is a live and improvised performance. For Ethereal I, Sándor moved from acoustic to electric guitars. But the difference doesn't stop there; he is processing his electric guitar voice to be entirely unique and unlike anything I've heard." Sándor's move from acoustic guitars to processed electric guitars may startle some purists, especially those who've enjoyed the duo's previous Greydisc albums. That being said, from a fresh and open-minded musical perspective, Ethereal I clearly expands upon their sound in a most satisfying and stimulating way. Speaking about this unique change of musical scenery, Sándor clarifies, "I think the unusual part of the Ethereal I is mainly from me. I play electric guitar and a lot of live and studio processing. I asked Kevin about the possibility to try how my new electric soundscapes would sound together with his new carbon acoustic guitars. Kevin is a very open-minded person to new and unusual ideas, so we made a track and he liked it so much that with this, a new kind of musical collaboration started between us." Fans who enjoyed earlier CD releases by Sándor and Kevin will be in for a most welcome surprise with the 2018 CD release of Ethereal I. In a world of musicians too often apprehensive about altering their recorded sound, or to set sail upon challenging musical destinations, Kevin Kastning and Sándor Szabó continue to breathe inspiring and intriguing life into the art of the guitar and its endless myriad of sonic complexities.
-- Music Web Express 3000 (US)
February 2018

""Ethereal 1" is a strong contender for my favorite release in your ever-expanding catalogue. A beautiful album."
-- Mike Metheny (US)

"Ethereal has helped me to meditate and organise my thoughts. I think it is great music for healing no doubt. I can feel that you arranged from your soul....that you sing through your instruments."
-- Shashika (INDIA)