I met Hungarian multi-guitar virtuoso Sándor Szabó in 2006. Neither of us had ever met anyone who was on the same rare, heteroclitic, and anomalous artistic path; the similarities were overwhelming. Both of us had been influenced by many of the same composers, both of us had to some degree adopted the harmonic structures of Bartok as well as developing it into our own. Both of us had invented new members of the guitar family: Sándor the 16-string guitar, and myself the extended baritone guitar and the extended 12-string baritone guitar. Both of us had fretless acoustic guitars built to our specifications and had recorded with them. Expanding the boundaries of and the known universe of the guitar as an instrument had long been a shared, common goal. As the instrument's boundaries are removed, so are the compositional limitations; thus expanding not only the instrument and extending the guitar voice family, but greatly expanding compositional and performance possibilities. As we got to know each other, it became apparent that a deep connection of kindred spirits was taking place, and eventually Sándor asked me to record an album with him. In June 2007, we met in the recording studio, and the result of our first day in the studio was the album Resonance, released by Greydisc Records in October 2007. This is an historic album, as it is the first album ever recorded for baritone guitar duets.
Sándor and I have completed recording six albums together, and we are already at work on the compositions for our seventh album.The first recording sessions took place in June 2007 at Studio Traumwald in Massachusetts USA, and both albums were recorded in two days. The first record is comprised of duet compositions for 6-string baritone guitars, 6- and 12-string baritone guitars, and for 12-string baritone guitar duets. The second album is duets for 12-string baritone and extended baritone guitars. For these recording sessions, I played only the Santa Cruz DKK Extended Baritone, or the Santa Cruz DKK-12 Extended 12-string baritone, which is what I'm playing in the recording session photos on this page. The first Szabó-Kastning album, Resonance, was released by Greydisc Records in October 2007. Sándor and I are very excited about this new album, which will be the second in a series of duo albums for us; the compositions for the second album are a bit more abstract than those on Resonance. Recording sessions for what will be our third album are being scheduled for July 2008. I can honestly say that I have never been involved in a recording project which progressed with such a rarefied and spiritual atmosphere. More than once at the end of a take, Sándor and I would instantly look at each other with a look of awe while holding our breath; it was as if something greater than the both of us had taken over and all we could do was just follow. These recording sessions could not have gone better, and it is my belief that artistically, we have created something entirely new and unique.
Sándor had this to say about the recording sessions: "Playing in a duet setting is the most challenging and demanding way of playing for improvisers. If they play in their most honest way, each of them will transform in the other one and create a new quality. This makes the duo playing so special and yet so difficult. This happened when playing and recording with Kevin. I remember the magic that I felt from the experience while playing together. The whole recording session was a magical reality. We managed to step outside ourselves, and bring out new and previously unknown qualities from each other. It worked in an unexpected way; thus creating something that never existed before. It was very challenging to me to record improvised music on 12-string baritone guitars. Building and shaping the form of the composition while we had to be careful to control the harmonic content of the sound, because two 12-string baritone guitars with interval tuning took us to an unknown, never-before-heard universe. It was something that we will repeat in the future. I also believe that this is only the beginning..."
After our first day in the studio, Sándor asked me to continue to work with him, and we have committed to an album per year together.
Our latest album is titled Returning, and will be released by Greydisc Records on June 1, 2010.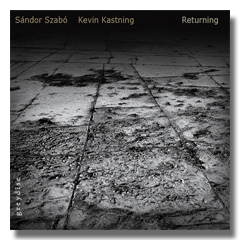 Listen to excerpts from Returning

2010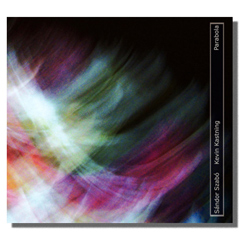 Listen to excerpts from
Parabola
:
Cartesian Other Straaxi Reflective Asymmetry
Parabola reviews and press


2009

Listen to excerpts from Parallel Crossings:
Cordulia Aenea
Improfugue III
Aeshna Cyanea
Under an Evening Sky

Parallel Crossings reviews and press


2008
Listen to excerpts from Resonance:
A Solitary Cypress
Intense Chemistry
Tanz Grotesque, No. 3
The Totem, No. 1



2007
Recording sessions for Resonance. Click the thumbnails to view a larger version.






Szabo-Kastning