Guitar Player Magazine; September 2011
Kevin Kastning and Mark Wingfield on Improvising an Album

by Barry Cleveland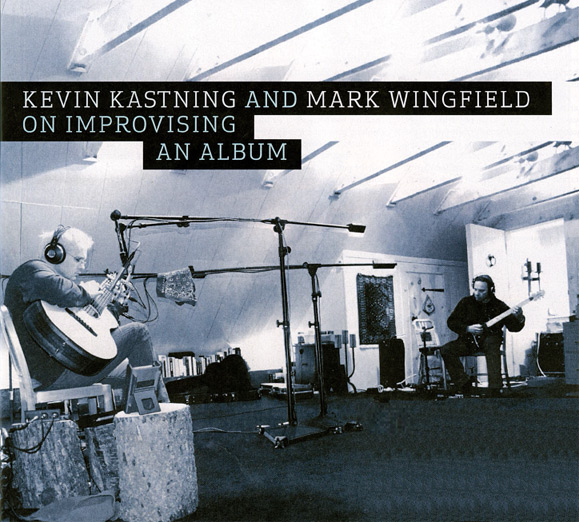 KEVIN KASTNING AND MARK WINGFIELD strive to transcend the traditional limitations of their instruments—albeit in very different ways. Kastning typically plays custom acoustic guitars such as 12-string extended baritone, 12-string alto, and his recently acquired 14-string Contraguitar. Wingfield eschews the typical magnetic pickups and amplifier in favor of digital technology that enables him to alter the attack, sustain, resonance, and other timbral characteristics of his electric, allowing him to, for example, articulate notes and phrases like a horn player. "The blend of Mark's unique electric guitar voices with my extended-range instruments and unorthodox tunings created something very special," says Kastning of the duo's debut release, I Walked Into the Silver Darkness [Greydisc]. "I don't think we were prepared for what happened when we began recording together. The pieces just took on an organic life of their own."

Although it was the first time the two guitarists had played together, and the music was entirely improvised—or perhaps more accurately, "spontaneously composed"—the material possesses a striking cohesion, and the sort of nuanced interaction that usually only occurs with experience and familiarity. Intricate structures emerge, in which dynamic lines interact across parallel planes, touching here, diverging there, while traversing shimmering harmonic clusters, brooding pools of dissonant darkness, pockets of microtonal fluctuations, and myriad other tonalities.

"There was an instant connection as soon as we started to play together," enthuses Wingfield. "We both seemed to know where the other was going next, though rather than thinking about it I was simply absorbed in the music, listening and letting it happen."

The success of the duo's collaboration may be partially explained by the fact that both artists are accomplished composers. "I hear Mark more as a composer than a guitarist," explains Kastning. "We both come from composer backgrounds and have a purely non-guitar composing aspect of our lives. That is a huge commonality between us, and I think that compositional approach and sense of form, structure, harmonic theory, and even narrative sparked a unique and special chemistry."

There is also significant overlap in Kastning and Wingfield's musical tastes. "We like much of the same music," says Wingfield. "In particular, artists from the ECM Records catalog, and classical composers such as Bach, Bartok, and Elliott Carter. But those commonalities can only account for a small part of what happens during improvisation of this type—a process that opens up whole areas of musical imagination that are simply not accessible in any other way."

KASTNING PLAYED four custom-built guitars on I Walked Into the Silver Darkness: a Santa Cruz DKK-12 12-string extended baritone, a Santa Cruz KK-Alto, a Cervantes Rodriguez classical, and a 14-string Contraguitar built by Daniel Roberts Stringworks. The Contraguitar was recorded in stereo using Gefell M930 and M295 microphones, and the other instruments were recorded using a matched pair of AKG 414-XLIIs—all feeding a Millennia HV-3D mic preamp. Wingfield played a Patrick Eggle LA Plus guitar, mostly through a Roland VG-88, though he also used an Axon AX 50 MIDI converter into an Apple Macbook Pro running MainStage software (hosting Spectrasonics Omnisphere, Waves GTR, and Logic's EXS sampler) on a few pieces to create "supplementary and textural sounds." Everything was recorded to a 24-track Alesis HD24XR Hard Disk recorder.