MUSIC WEB EXPRESS 3000
presents an interview with
SÁNDOR SZABÓ AND KEVIN KASTNING
July 2010



MWE3: Tell us something about each of your musical backgrounds and how long you've been playing guitar and any other instruments as well.

Sandor: I started studying classical guitar at age 13 and then I tried all the possible styles, rock, folk, jazz. Then my attention turned to the real improvised music, and I also began to compose. In the meantime I started to search for the eastern music and I went deeper into the contemporary classical music also. By now all these influences determined what and how I play now. From the beginning I play many different kinds of acoustic guitars, nylon and steel strings, 10,12,16 strings, fretless 8 and 24 string double neck koboz, baritone 6 and 12 strings.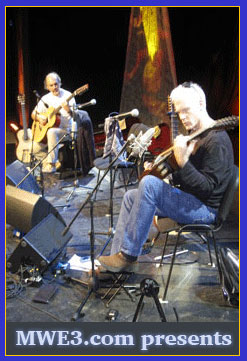 Kevin: I began playing trumpet and piano when I was 7. I wrote my first pieces that same year, too, using piano. To this day, I still compose on piano; never on guitar. I added French horn when I was about 10; the school orchestra needed a French horn, and I love learning new instruments, so I volunteered right away. I started playing guitar when I was 11 or 12. I also play mandolin and bass. Since about 2002, I've been an artist endorser for Santa Cruz Guitars, and Richard Hoover (owner/founder of SCGC) has been incredibly supportive; both to me personally and to my music. The Santa Cruzes are perfect for what I do; their voicing is so balanced and responsive. They have built three instruments for me which I've basically invented: the 6-string extended baritone, the 12-string extended baritone, and the 12-string alto guitar. Some of the other guitars I play are fretless acoustic 6-string and also classical guitar; as well as standard acoustic 6- and 12-string. My main instruments are the three KK series from Santa Cruz. I'm working now with a very gifted luthier in Montana named Daniel Roberts. I could never say enough good things about him. Dan was at Santa Cruz when the two KK series baritones were built; he had a big hand in both of those. At present, he's building another of my inventions called the Contraguitar. It will be a 14-string instrument with a wider range than anything else. I suspect this will become my main instrument.

MWE3: How did you two guitarists meet and what would you say was the initial chemistry that led to your first recordings?

Sandor: Things never happen by chance. A few years ago I was searching for baritone guitar makers, and I found Kevin Kastning as an endorser of the Santa Cruz baritone guitars. When I listened to his samples on his website, I thought that I found the most modern American guitar player, who seemed to me as if he came from another planet. Then when I toured in the States and Canada, I visited Kevin, and at once we started to record. The chemistry was obvious and so strong. When we started to play freely, he reacted and responded in the music in a way that no other guitar player could. The improvisation with him sounded as structured composition. It was refreshing to improvise with someone who never used any jazz clichés.

Kevin: In 2006, I received an email from Sandor. I had heard of him, and knew who he was. He started by asking some questions about the Santa Cruz KK baritones. We exchanged some of our albums, and found that we had much in common both artistically and personally. It wasn't long until Sandor asked if I'd do an album with him. I wasn't looking for a new duet partner or collaborator, but I knew that something special would come of this. I sensed I had found a kindred soul. So I said yes. On our first studio session together, we recorded the album "Resonance" in a single day. As an aside, we've recorded all of our albums in a single day each. We both knew we had a connection unlike any either of us had experienced; I think we meshed musically more than either of us ever had with anyone else. During a break in the recording sessions on that first day, Sandor asked if I'd do an album per year with him. By then, I knew we had to!


MWE3: Tell us about your new CD, Returning, when and where it was recorded, some information on the way the album was recorded and how it reflects your overall musicianship and/or guitar style.

Sandor: With Returning, we symbolically wanted to return to the Source of All The Music, and we wanted to show that the music still has the ritual and sacred power if it is played properly. We think that there are many kinds of ways to improvise. We have chosen the most difficult, when we just lift over the music from another reality. When we play it is a ready and complete music, nothing more to do with it. This means of course a lot of responsibility from the player. We never experiment, because in the Source the music is waiting for to be reborn in and via the human soul and it just manifests as a ready music on the instrument.
When we play in duo, we play in a different way. I am mostly a solo guitar player, but I always play in a different way in duo. We are solved in each other and this creates another kind of approach of the Source.

Kevin: The compositions on Returning are more extended than the pieces on our previous albums; not just in compositional duration, but more extended in emotional depth, harmonic complexities, and even structural form. One person wrote to me, and said they hear the pieces on Returning as darker than the other records. I wouldn't refute that; I think that kind of depth and intensity can come across as dark.
With our records, I think each one goes deeper than the preceding one. That is certainly true with Returning.
We recorded Returning in a single day in my studio in northern Massachusetts. It was tracked live in the studio, just as you hear it on the record; no overdubs, no EQ, no compression or limiting.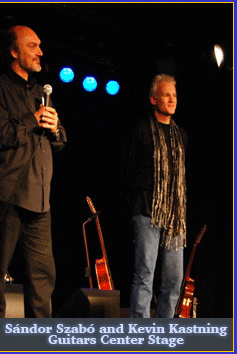 MWE3: How would you compare the sound of Returning to your earlier CD releases including Parabola, Parallel Crossings and the Resonance albums? Can you describe the evolution in the sound and/or development of musical ideas between the different recordings?

Sandor: Each album sounds a little different. However, we created a typical sound which can be heard on all the albums. The difference is much rather in the guitars and the tunings we played and used. We are also different every time, so even if we do not want to change anything, things changes and that can be heard.

Kevin: As far as sonics, recording and mixing, are concerned, I think all our albums sound very good. I don't know that the recorded sound, the quality of the recordings, has changed all that much. The evolution of the musical ideas, as you put it so nicely, certainly has. Sometimes I think of our records as steps on a staircase; each album is the next higher step. The communication between each other, as well as with the Source, is ever evolving and becoming deeper. And is something I'm always pursuing.


MWE3: How did recording the Returning album with 24bit/96k resolution impact the overall sound quality and can you describe the special steps that were taken in the mixing and mastering stages?

Sandor: We recorded the albums in Kevin's studio in a high resolution hard disc recorder, using the possible highest quality mics and preamps. The mix was done in my studio in Hungary also on devices of the possible highest level. As for my recording concept I have a very simple concept for recording acoustic guitar. I use mics in stereo setup with Jecklin Disc. I try to find the only one position which gives me the guitar real sound. I never record a guitar with only one mic, it sounds if you had only one ear.
If all is recorded properly, there is no need for mastering, because we start everything in the right way from the beginning. I never use EQ and compressors. These units are forbidden from my studio. I am trying to move the mics instead of using EQ until I get what I want to hear. The only effect I use is a Bricasti M7 or a Quantec 2498 Space Simulator. These units sound much better and three dimensional as even the best recorded space. In this way we keep the original dynamics and the spectral range of the guitar and the result is a very lifelike recording where you can have the illusion that you feel the deepness, the width of the space, the distances of the guitar in the space, and you can almost touch it. A very 3-dimensional audio experience.

Kevin: Sandor and I divide up the work like this: I am the recording engineer, and he is the mixing and mastering engineer. My studio has nothing in the way of compressors, limiters, or EQ; everything is accomplished with mic selection and placement. Everything was recorded using Millennia microphone preamps, and a combination of Gefell, AKG, and Neumann microphones. I have a coincident stereo mic pair on each instrument, and put up a stereo pair of 414s as overheads, so we end up with a 6-track master. I am blessed to have a studio which is a good sounding acoustic space, and that comes across in the recording; you're not just hearing the equipment. Tracking at 24/96 results in a much more detailed and three-dimensional soundscape for sure. Sandor's studio in Hungary is very high-end; just excellent. Of course, having great gear doesn't matter if you don't have the ears and know how to make an ideal mix. Sandor's mixes are wonderful, he's got amazing ears and many years of studio experience, and it shows. The only effect allowed on our recordings is in the mix, we use the Bricasti M7 reverb unit. It is like having Boston Symphony Hall in a box; everything just breathes and comes to life with it. So with the careful mic selection and placements, the high-res tracking in a great room all with the magic of the M7, it makes for a very good sounding recording to say the least. I think the depth and breadth of the sonics and recording quality of Returning is palpably deep.

MWE3: The artwork on all four albums is very impressive. What kind of effect were you going for regarding the artwork and packaging on the CD releases?

Kevin: Thanks, Robert. I didn't do any of the artwork or album design on any of them. I will usually start by sharing my thoughts with Sandor as to the kind of album cover I'm "hearing," based on the pieces for the album, and we'll discuss what we're both hearing. We are always in agreement on this.
The last three albums were done by a great artist in Australia named Lea Hawkins. Lea has been listening to my music for many years, and I think she will sometimes know what the cover should be before I do. I send her a copy of the final mix of the album, and a description of what I'm going for in terms of a cover; a feeling, something conveyed; things hinted at, a thematic overview, an essence; all based on and connected to the compositions. Sometimes I will provide a vague verbal compositional overview. She always creates something which truly reflects the compositions on the albums, while at the same time enhancing the impact of them, I think, by her art and design and how it all is connected to, and is even an extension of, the music. Using Returning as an example, I think the cover art is a palpable crystallization of the music. The pieces have that sense of depth, that texture, and then there is the fading into blackness which seems to hover like a mist with this album. There is also a photo in the gatefold inside the album cover which is connected. I am proud to have Lea's paintings and photography as our cover art.



MWE3: Tell us something about the guitars featured on the Returning album, adding in something about any special guitar set ups, strings and pedals or recording effects. Were the same guitars featured on the earlier album releases too?

Sandor: On Returning I used a Lance McCollum 12 string baritone guitar with different tunings. I use John Pearse strings. I never use effects, I am a really purist acoustic guitar player. On amplified concerts the only effect is a high level reverb unit.
On the earlier albums I used also the McCollum, sometimes with 6 string setup, sometimes with 12 string. I do not remember the tunings, but you can find some on my website.

Kevin: The main instrument for me on Returning is my Santa Cruz DKK-12 Extended 12-string Baritone. I'm an artist endorser for John Pearse, so all John Pearse strings for me. No effects or special setups, but plenty of special tunings. I used my own intervallic tunings on the entire album, and that is very freeing; these tunings allow for harmonic depth and expression which just is not possible with standard tunings. I can grasp textures and create entire harmonic environments and establish densities which are otherwise unattainable. There are no standard tunings used at all on the entire record. I also used my Santa Cruz KK series Extended 6-string baritone in low E tuning on a couple of pieces, and my alto 12-string guitar on a couple of pieces. Everything else is the DKK-12, that is currently my favorite instrument.
On the other three records, I'm using just the two baritones. The DKK-12 is usually my main instrument on each record, with the DKK-6 used on a few pieces. Like Sandor, I have most of my tunings posted on my website.

MWE3: Can you mention some of your musical influences, favorite guitarists and most influential albums?

Sandor: Earlier I mentioned my music influences. Until my 30's I had favourite guitar players, but from that somehow I felt listening to others will affect my playing in a bad way. I wanted to play in my style, so from that point the favourite players became much rather kind of handicap for me. Of course I follow what happens in the world, but my path leads to different direction. One thing is sure, that I was deeply influenced by John McLaughlin when I was 20-25, then Ralph Towner and Egberto Gismonti. After my 30's I just wanted to hear MUSIC, composers like Béla Bartók, Zoltán Kodály, Arvo Part, Schonberg, Berg, Wagner, Debussy, etc. Now I am much rather interested in music than guitar playing, which means that I am first of all a musician, and only then a guitar player. Some albums are still my favourites from my early years, like Between Nothingness and Eternity, Apocalypse, from the Mahavishnu Orchestra, the Batik from Ralph Towner and those two duo albums with John Abercrombie and Ralph Towner in duo. Yes, those two albums were my reference duo guitar albums for long time. Since I know the Kastning/Siegfried duo albums, the reference has shifted quite a lot. These albums are not famous at all, but they are genius. It was a big mistake always from my part when I wanted to find the best musics only from the famous players. The deepest musicians are unknown. All the famous guitar players became millionaires, and they seem to have lost their real honest contact with the music because they are part of an industry and as such they are not free anymore. They cannot renew themselves anymore. Of course I respect them a lot, they did a lot to the world of the guitar.

Kevin: My father was a musician, and when I was growing up, there were always just piles of records around, everything from country and western to jazz to classical. I would listen to his records for hours and hours every day before I started playing an instrument. From playing in school orchestras, I developed a deep love of classical music. I don't recall being all that impacted by guitarists; my heroes were always composers. It is not an overstatement to say that the work of Bela Bartok made an intensely profound impact on me. Other heavy influences are composers such as Gesualdo, Ockeghem, Bach, Beethoven; especially his late-period string quartets, Schoenberg, Webern, Berg, Elliott Carter, Charles Ives, Schnittke, Shostakovich…. It is quite a long list! I can't really point to specific albums which had an impact, but I can point to a few works which did: Bartok's string quartets, Alban Berg's 1935 Violin Concerto, Elliott Carter's string quartets, and Beethoven's late-period quartets. For me, Bartok's quartets were like the Rosetta stone and an artistic GPS rolled into one. I also cannot underestimate the deep impact of the works of Carlo Gesualdo.
Favorite guitarists…. That's tough. I don't think I have any! I always really enjoy Paul Galbraith and Goran Sollscher, very much. Though not a guitarist, I really like Robert Barto performing the Sylvius Leopold Weiss lute works, he's playing multi-course baroque lute. And of course Sandor is one of my very favorite guitarists. His is a totally unique voice. When we did the European tour last year, he would open each concert with a few solo works. Standing backstage every night listening to that was a very spiritual experience for me.

MWE3: What are your current and upcoming plans regarding your recordings, new recording sessions and upcoming tours and performances?

Sandor: Well, we have two more unreleased recordings with Kevin, a duo and a trio together with Balázs Major on percussion. I am quite scheduled now, here in Europe there is a decreasing interest for the music that I created as a result of my Hungarian music researches. This project is called Modern Hungarian Maqams. ( www.hunmaqam.hu) I just returned from a 9 concert Estonian tour. People liked a lot the ancient Hungarian instrumental music that I recalled 2000 years later. Upcoming tours will be in Hungary , Mexico and Germany in the autumn. We work on making European concerts with Kevin, however in this time it is extremely difficult to find promoters for such a deep music.

Kevin: As Sandor said, we have two more albums completed; the first of those will be out in 2011. It will be a very special record; it was recorded during the 2009 Eur
opean tour. It was recorded on location in a church in a tiny 9th century village in Hungary, in the shadow of a castle which also dates from the 9th century. We also have two other album projects in the works together; each will be very, very different from what we've done so far. Our next European tour is coming up, too. Siegfried and I have completed a new album which should be out late this year or early next year. It is the best work he and I have ever done together. I'm working on three solo albums; each very different. I am working on an album project with a wondrous reed player and composer named Carl Clements. I also compose for non-guitar settings; for example, I've got about four or five string quartets in the works right now, another piano sonata, various trio sonatas. I have two duo album projects coming up with two other artists. A bit too early to go into specifics right now, but I'll be making announcements on my website soon.

- MusicWebExpress3000 (USA)