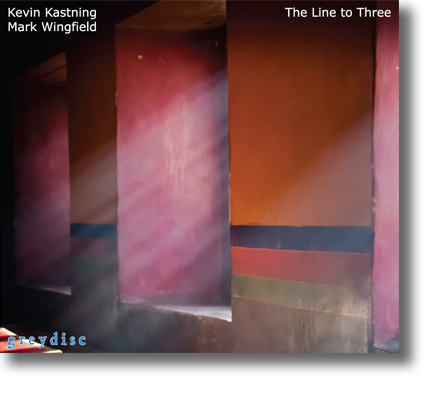 The Line to Three: Reviews

Kevin Kastning/Mark Wingfield: The Line to Three
"What do you get when two completely innovative guitarists cross paths? In this case the results are what we would expect from American musician Kevin Kastning and British guitarist Mark Wingfield. On the duo's latest effort The Line to Three, their fifth overall, we have a melding of Kastning's classical acoustic guitar and Wingfield's ethereal electric notes, cool effects and other otherworldly soundscapes.

These aren't really songs, at least not in the traditional sense. Both musicians give their own interpretation of experimental/avant-garde music with their hypnotic tones and unusual acoustic and electronic soundscapes. This disc will not reel you in in a melodic sense but these are intriguing sound collages for those into more experimental fare.

The album has a running time of almost seventy-four minutes so there is a lot to explore here. I suggest listening on headphones to totally submerse yourself in all these two musicians have to offer.

For you equipment junkies out there you may want to further explore the 30 and 15-string guitars, both invented by Kastning."

-- Sea of Tranquility webzine (US)
September 2017

Kevin Kastning, Mark Wingfield The Line to Three [Greydisc]
"Wingfield floats his sustained, soaring melodies over Kastning's 15 and 30-string acoustics, piano and percussion, to create a gorgeous set of live improvised music."
-- Guitar Moderne webzine (US)
July 2018


KEVIN KASTNING + MARK WINGFIELD – The Line to Three
"All four of these recent Kevin Kastning releases have things in common with the American guitarist's earlier output. They're duo recordings, for one, that see the Berklee College alumnus partnering on real-time improvisations with fellow artists with whom he's developed long-standing relationships; all feature the signature sound of his remarkable custom-designed instruments, among them the 36-string Double Contraguitar, 30-string Contra-Soprano guitar, and 17-string Contraguitar; and with each release typically weighing in at about seventy-five minutes, all four give consumers their money's worth.
But each release is different from the others, and further to that Kastning goes out of his way to ensure that the recordings don't simply repeat what each duo has done before. There's no better illustration of that than The Line to Three, his 2017 set with Mark Wingfield. In again coupling Kastning's acoustic guitar with Wingfield's electric, the sound they generate is as arresting as it is on their earlier releases. The latter's distinctive and instantly recognizable voice is on full display throughout, and, as the three "Invisible Landscapes" so strikingly show, the clear definition of Kastning's acoustic picking makes for dramatic contrast when paired with Wingfield's bent notes, bold soundscape textures, and laser-sharp lines.
Yet the new set distances itself from the duo's others by expanding significantly on the sonic palette, with Kastning supplementing his 30-string Contra-Alto and 15-string Extended Classical guitars with piano and percussion and Wingfield adding soundscapes and live electronics; long-time Kastning listeners might be surprised to discover, for example, that on four of the album's nine pieces he plays acoustic piano only. That change in sound design builds upon the guitar contrast that grounds the project by juxtaposing Wingfield's electric musings with Kastning's piano and percussion. The pieces are anything but static: "Momentary Books of Leaving," for example, advances through multiple parts, among them dark episodes featuring loud, low-pitched piano chords and frenzied sequences where the electric guitar arcs across Kastning's high-register keyboard expressions. With the latter shifting his attention between three instrument types, it's Wingfield who acts as the unifying element for explorations that typically unfold as deeply engaged conversations between the two."
-- Textura Magazine (CANADA)
April 2018

VERITAS VAMPIRUS
KEVIN KASTNING / MARK WINGFIELD – The Line to Three (2017 / Greydisc)


This time around, in The Line to Three, Mssrs. Kastning and Wingfield decided to open with "Invisible Landscapes I" by thrusting agape the door to Purgatory or perhaps the vault of The Keep (an old horror movie scored by Tangerine Dream) and peer within. Cosmic exhalations drift down from above, Mr. Wingfield summoning triggered soundscapes, dragging them across dreary fields, their ominous Stygian dragon's breath warning of potentialities only darkly imaginable, none of it heartening.


Kastning provides the acoustic offsets - as Wingfield turns Rypdalian - averting the plunge into the abyss, which keeps threatening anyway. By song's end, nothing is resolved but the trek was fascinating. "All the Clouds Around You" follows, with Kastning first switching from guitar to piano, lower keys booming counterpoint to Wingfield's fitful squiggles, higher keys tinkling offsets as if wind chimes glassily jangling in Dante's fifth circle. The tableau shifts nervously until it runs into "A Nameless Unfolding I", which extends the conversation, Kastning now favoring his guitars in delicate thoughtful backdrops.


In The Line to Three, Kastning's piano figures as the continuation of a new voice poised only a single release ago. His use of it is often similar to his guitar work but obviously of a different character, frequently celestial, then moody as it descends toward infernal climes, even Pendereckian at times, Wingfield all the while keening above like a fitful dragonfly searching mercurial meadows, unsure where to land. The closing "The Line to Four", the longest cut of the CD, gathers everything together, recapitulates sundry elements, but also becomes a good deal more emphatic and then evolves…a hazy mutant jazz strain with some recognizable riffs.


What the hell??? A Kastning disc threatening to drop within even dimly cognizable genre conventions? Say it's not so! But, in all truth, I think it is. I see this close-out track as the foreshadow distinctively signifying things not long in the offing. "The Line to Four" is extremely Steve Tibbetts-esque and a song unlike any in Kastning's vast catalogue. His recent induction of piano has been significant and, to my mind, subtly influenced his thinking or perhaps provided a window upon long considered ruminations. Whatever the truth of it, I hear changes bubbling up.
-- Veritas Vampirus (US)
July 2017


KEVIN KASTNING-MARK WINGFIELD/The Line to Three
One of the many flavors of Kastning on display here is his 6th duet with Wingfield. What happens when you let two premiere innovators loose to do what they want? Apparently they use their forward thinking brains to turn everything on it's head and make a spooky sounding, downtown arty set to bring disaffected millenials into the tent. The soundtrack to an imaginary cyber thriller that hasn't been made yet----, well, "Tubular Bells" did pre-date "Exorcist". A wild ride through a nu sonic underground that's best experienced without drugs the first time around. Check it out.
-- Midwest Record webzine (US)
June 2017

KEVIN KASTNING & MARK WINGFIELD - The Line To Three


"When worlds collide in the absence of a witness, this is the sound they make.

Two most original guitarists, Kastning and Wingfield, continue their progress into the great unknown – and this direction could be the only thing the two have in common. The more interesting it gets, then, because the artists wouldn't be able to repeat their own, let alone somebody else's, route even if they wanted to. That's why, in terms of abstract approach to emotionality, "The Line To Three" couldn't be more different from "Eleven Rooms" that preceded it, three installments of "Invisible Landscapes" which run a thread through the record making the gently wailed intangibility rather effective, a suspended event of sorts. As Wingfield's atonal slivers feed electric charge to Kastning's strum, and former's six strings tease feedback out of the latter's classical fifteen, eerie calmness descends upon the listener, although there's also hidden anxiety in such an urban meditation whose well-textured wisdom is revealed in the epic "Momentary Books Of Leaving" – a solemn, funereal-to-belligerent, aural analog of peripheral vision.

Still, it's tracks with Kevin concentrating on the left side of a piano keyboard and Mark focusing on the upper part of his fretboard that allow the duo explore their dynamic in full. This juxtaposition of the two instruments and the near-silence between their registers, alternately converging and separating, is where elusive, if folk-informed, melodies breathe and come to life on "The Gathering Of Shapeless Form" and "All The Clouds Around You" as mesmeric forays into some other world – one much more exquisite, and empty, than ours. An introvert's paradise? Perhaps.

Yet percussive ripples peppering another split picture, "A Nameless Unfolding" which pushes the envelope towards free jazz, bring nuclear tension to the guitars' tangle. There are seemingly random chords thrown in to counterbalance Kastning's 30-string Contra-Alto beatific beast, while "The Line To Four" – the album's finale defying its own title – dissolves Wingfield's avant-garde reserve in sheer pleasure. As a result, surprises are aplenty here: not easy to possess, they're the receptive ear's ultimate prize."

****
-- Let It Rock webzine (CANADA)
January 2018

Kevin Kastning and Mark Wingfield - The Line to Three
"As I've mentioned in my 2017 introduction of my review of Kevin Kastning's A Connection of Secrets, It's been a good while since I've listened to Kastning's music. It's been way overdue and I figured it's about time to go back and find out what I was missing. Since 2011's I Walked into the Silver Darkness, I believe and I might be wrong this is, it is their sixth collaboration that Kevin has worked with Mark Wingfield. The combination between the two of them are a perfect team, and an amazing duo.

Recorded in over three days last year at Studio Traumwald in Northern Massachusetts in February while mixed and mastered in the U.K. at Heron Island Studio, the soundscapes on The Line to Three, released on the Greydisc label, gives Mark the creation he does by doing these deep, immersive sounds that almost made my arm hairs go up. He can make his guitar go through these chilling scenarios.

I almost had this feeling that he's tipping his hat to Terje Rypdal as if he's watching Wingfield doing these component ideas while Kastning plays not only just the 30-string contra-alto guitar and the 15-string extended classical guitar, but playing some of the most menacing piano chords both high and low. And some of the booming sounds on percussion as if Kevin is making you, the listener, to understand that someone is creeping up behind you or waves crashing at the exact moment.

You can imagine yourself being at the Scandinavian mountains at night and you can almost feel the wind breezing and the pins dropping. Kastning and Wingfield setting up the cold, chilling, and freezing vibes of the mysterious whereabouts of being alone in a cabin with only one candle burning bright with no electricity, small amount of food, and the winds hitting really hard. The music really sets the scenario as if there's no one to help you or rescue you. The only option is survival of the fittest.

Now, this is my second time listening to The Line to Three. It may not be everyone's suitable taste in music, but with the elements of Avant-Garde, Classical, Droning, and Experimental music, Kevin and Mark kept me going for more to see what they will come up with next."

-- Music from the Other Side of the Room (US)
February 2018